Description

ST-SD301 is a surge protection device for single channel RS485 signal, which is designed with reference to IEC61643-21:2000. The default working voltage is 5V, while the maximum sustaining working voltage is 6V. The voltage protection is less than 20V, and it possesses the following advantages, such as multi-level protection, larger flow capacity, low voltage-limitation, quick response, high transmission rate, and so on. It is suitable to be used for protection in the following fields,.

Features

· Standard: GB/T18802.21-2004/IEC61643-21:2000 Nation Standard;
· Signal: RS485 or 5V signal(transmission rate less than 10Mbps);
· Feature: Multi-function and multi-level over-voltage protection,large flow capacity,low voltage limitation,quick response,little insertion loss;
· Ground manner: Extension cable touches the ground directly;
· Design: Clear and scientific mark,easy to recognize,All-aluminum-made cover,compact design,easy installation.
Specification
Item

Description

Control Signal

Rated Operational Voltage

5V

Max Continuous Operational Voltage

6V

Nominated Discharge Current (8/20µs)

5KA

Max Discharge Current(8/20µs)

10KA

Compact Limited Voltage (10/700µs)

<20V

Resistance

≥0.4MΩ

Inserting Loss

≤0.5dB

Standing Wave Ratio

≤1.2

Transmission Rate

<2Mbps

Reacting Time

≤1ns

Environment

Working Temperature

-20~55℃

Storage Temperature

-40~70℃

Humidity

0-95%

Physical Properties

N.W.

49g

Size

65mm×25mm×25mm

Shell

Aluminum

Stability

MTBF

>30000hr
Connection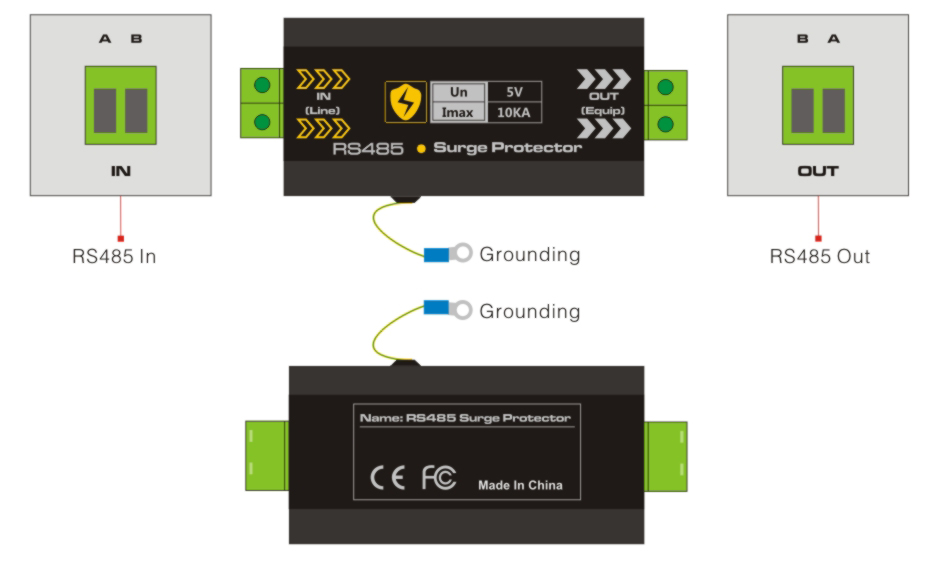 Application