Application
1) The device (power cable, PTZ cable, video cable) of surveillance system
2) Bank surveillance system and housing district safety system
3) School, enterprise and road safety protection
Feature
1) Camera power, video cable, control cable multi stage protective circuit
2) International famous core component brand
3) High discharge current capacity, low insertion loss, superior transmission performance, no leakage current
4) Low residual voltage, perfect protective effect
5) Quick response, stable performance, reliable working
6) Small size, easy installation
Specification
Product model

AJ3-220

1. power SPD specification

Max continuous working voltage (Uc)

220V AC

Nominal discharge current (In)

10KA

Max discharge current (In)

20KA

Protection level

≤100V

2. signal SPD specification

Video

PTZ control

Max continuous working voltage (Uc)

12

24

Nominal discharge current (In)

5KA

Max discharge current (In)

10KA

Protection level

≤25V(core wire—case/ground)

Data transmission rate

≤100Mbps

Impedance

75Ω

Insertion loss

≤0.5dB

Interface type

BNC-K/J

RS485

3. other specification

Case

Aluminum material, oxidation surface(black, silver)

Dimension

110*61*28mm (including interface)

Wire interface

Power supply

Compression joint port, suitable for 16-26AWG(0.15-1.3mm²) wire

Video signal

BNC connector

Ground

Earth wire terminal or 2.5mm²earth wire

Installation

Inside of box or cabinet

Working conditions

Temperature:-40~+85℃; Relative humidity:≤95%(25℃); Elevation≤3km
Structure chart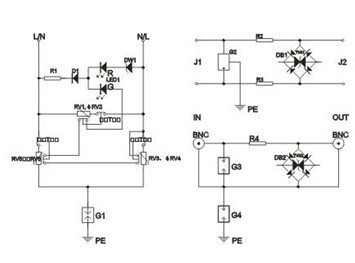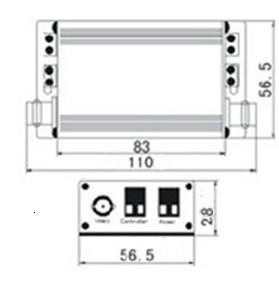 Installation and wiring
1) According to protection demands, the SPD is connected by series between protected devices and signal path,
the closer the distance to protected devices, the better the protection effect.
2) To connect separately a)the cable to the input terminal of power, video and control port, b) output terminal
of SPD power, video and control to related interface of protected devices, c) ground line of SPD to earth wire
of lightning protection system
3) After wiring, please check it until everything is going well, to put into operation.
Product maintenance
1) The product does not need to be maintained specially, but to inspect at fixed period, especially before and
during thunderstorm season.
2) Once there is a failure during system operation, please remove the SPD device at first, if the system can
operate normally, the device is broken
Product standard
1) IEC61643-1:1998 Surge Protective devices connected to Low-voltage power;
2) Distribution system.Part1:Performance requirements and testing methods;
3) EN60950: Safety of information technology equipment, including electrical business equipment.
4) GB18802.1 low-voltage distribution system SP: performance demand and test method;
5) YD/T 1235.1 Communication Station low-voltage power system SPD technical requirement;
6) YD/T 1235.2 Communication Station low-voltage power system SPD test method;